In thinking up my answer to the "What's your favorite" question for the Girl on the Rocks contest, I realized it would make decent blog material as well….
I have lots of favorites, but I decided to go with my favorite tool that I've made myself – row/round counting stitch markers. (I created them before seeing any of the ones currently available for sale, so I guess you could say I unvented them.)
You see, I'm bad at counting rows and terrible at counting rounds. Even with my handy katcha-kacha counter, I still often miss a click (which is easy to catch when you're knitting flat and there's a right/wrong side, but much harder in the round). And I always second guess myself when counting rows after the fact.
Here is the evolution of my solution to this problem: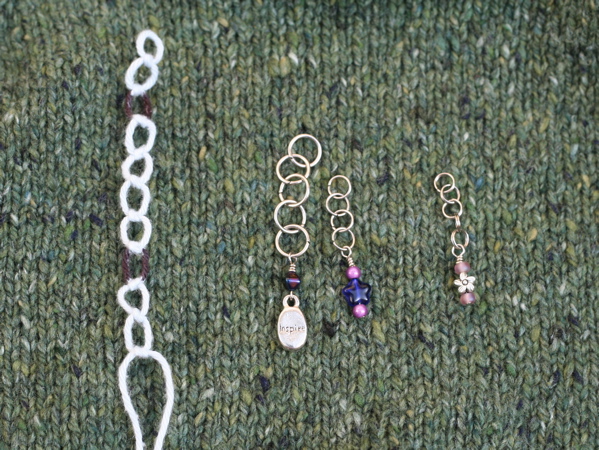 On the far left is my first solution to the problem – pieces of scrap cotton yarn that I double knotted around a pen ten times to make ten loops. I often colored in loops 3 and 8 because I was making a bunch of cabled handwarmers that had cable twists on those rounds.
The way they work is you start by putting the first loop on your needle at your round join, then on each subsequent round you move down to the next loop until you're at the bottom and then start over again. This solution worked well to help me keep track of my rounds and cable twists, but I found these yarn chains a little cumbersome and ugly.
When I learned to make stitch markers with beads and wire (from some online tutorial that I've long lost the URL of), I started making chains of 5 jump rings (or occasionally 4 for 4-round repeats) like the ones in the middle. They're easier to use, and 5 (or 4) rings is perfectly adequate (because I'm never *that* far off when counting rows of knitting). But the problem with these jump rings is that they can snag on the yarn or the tiny gaps can become significant enough that one or more rings fall off. When that happens there's usually no way to know which ring you were on, which defeats the whole purpose of a round-counting tool.
I realized that 5mm split rings (like little keychain rings) were a perfect size for sock knitting, don't catch, and don't become disconnected! My newest one is on the right.
I'm still on the lookout for larger split rings, but the larger jump rings don't become disconnected as easily and sock knitting is where I find this tool most valuable anyway (because of the need to make the second sock the same as the first), so I'm very pleased.